POST 2: MONTH 1
Our first month with Amber, a bundle of fun and energy but also a handful. Still, she was very good at the vet and now has all her jabs.
Her training is coming along well. She is now sitting on command (most times) and we even have her waiting for her dinner, no mean feat as Labradors are ruled by their tummy.
Patience is a virtue so they tell me and if that's the case, both Mandy and I are becoming very virtuous! Her attention span makes even a goldfish look highly focused! Even our elder statesmen seem to be growing a new dimension of tolerance.
However, she is such a joy (on the whole) and has really brightened up our lives.
Amber's Doggy Diary
Wow! Everyone's so big and the other doggies are kind to me. I like running around the house. Daddy James keeps asking me to sit. Don't know why. But sometimes I do get treats. Yummy. Hungry again. Mummy Mandy makes me wait for my dinner. Wait. Why? I just want to eat. Mummy's a softie though. She keeps calling me cute.
Daddy James took me to another place. A vet he called it. I had to stand on a table. A little scratch then back home. Food again. I like this place and Mummy and Daddy. I love playing with them. Tummy rubs! I love those.
Now I have to sit and stay again but there's always another treat. Yum.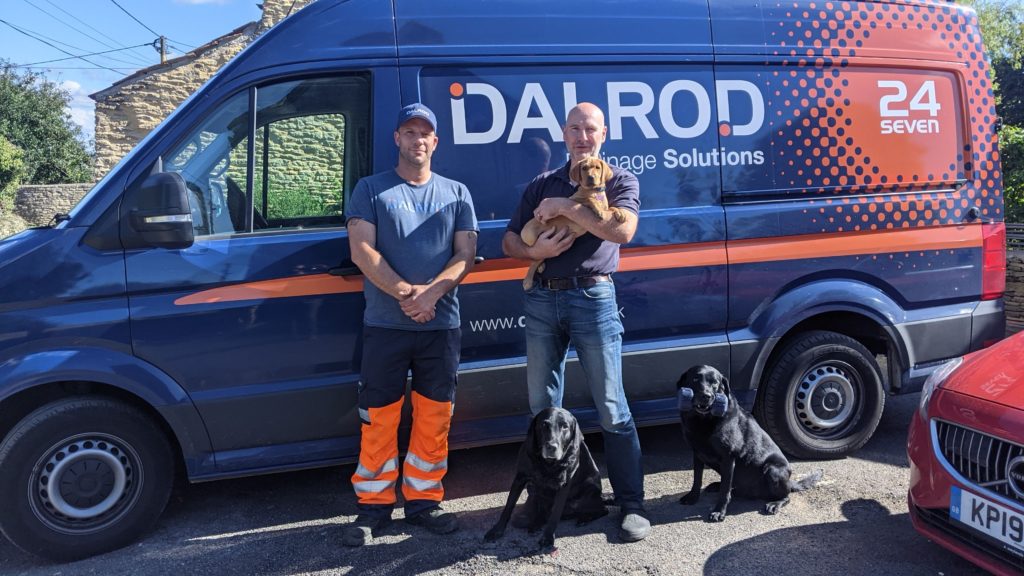 Amber's Apprentice Diary
New things to learn at Daddy's work! Sit and watch, Daddy said. Asbestos awareness training. I must remember not to eat that! Then he let me out for a pee. And a treat.
Next was emergency first aid at work. I mustn't run around or lick people's faces. I can bark to get someone though. It was fun running around with the bandages bit that got me into trouble. No treats that day.
Then sit and watch again. Daddy went through all the Toolbox Talks. Watch and learn. I felt so sleepy. Daddy let me nap after that.
Then off to a different place, a bit like the vet, to have more scratches and then I was out with Daddy.
We unblocked toilets, descaled limescale from some drains and did some CCTV survey for new houses. I had to sit, watch Bored no. What can I chew? Daddy told me off. Leave! Sit!
But I want to play. It's good to be out with him though. And there's always treats! Yum.