Engineers from DALROD Northampton were in for a shock when they went to a repeat toilet blockage at a residential property, only to find an Amazon Alexa in the pipework! The device was found after the resident had reported blockages in their toilet and trouble with flushing.
It soon became obvious that there was more to this than meets the eye. Sometimes the only logical option for an engineer is to remove the toilet, an option only used when standard methods are not enough. This allows better visibility, and in this case it turned up something very surprising – an Amazon Alexa blocking the flow. Alexa, get out of my toilet!
What could it be?
''When we were called to this job there were no signs to say it was going to be out of the ordinary but how wrong we were! I have seen many weird and wonderful things in my time as an engineer, but even this took me by surprise! No two days are the same in our line of work and that is what makes it so enjoyable'' – Craig Morley, Director of DALROD Northampton.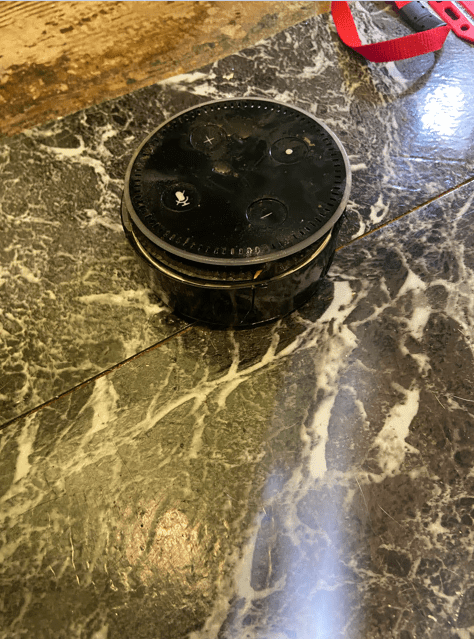 Now you may be asking yourself how such a thing made its way down a toilet? Whilst humorous for everyone involved, it shows that there is an important lesson to be learnt. Only flushable items should be put down the toilet to avoid nasty blockages. Non-flushable items can also cause extensive damage that can be expensive to repair. Some of these items include razor blades, nappies, wipes, sanitary products and of course electronic items, which should be disposed of in the correct way. Non-recyclable products should be disposed of in general waste, while larger items should be taken to a local waste management centre. Further information regarding this can usually be found on your local councils' website.
Think before you flush!
Luckily for the property owner there was no lasting damage and DALROD Northampton ensured that everything was in working order before leaving. Whilst this was one of the more unusual jobs DALROD have been to, we will always provide a first-class service and ensure your drains are free flowing quickly and efficiently, with minimum cost and disruption.
If you ever find yourself with an unwanted drain problem, get in touch with us today!